Quote:
Wait a minute...you're only 14? Uh oh, how are we going to explain this one to the labor board?

I am 15, almost 16, but I can prove mself. Honestly.
Quote:
Come into our TeamSpeak Lobby and wait for a 760 member to pull you down into a channel. You can also use XFire to find other 760 members playing Crysis or whatever. There is almost always a 760 playing Crysis somewhere, although our Pro-Gaming guys may be in a locked server practicing at different times.
Thanks, I got on and people helped me out. I need to install xfire, and figure out how to use, but I am sure I can do it soon.
Quote:
Uh, how is that name pronounced, masterdude?

I'm really curious.

Thanks,

tomatoes / Blake

Santa Barbara
You have no idea how happy I am you asked. I am serious
It is Master Blake. (story time!) It started when I made my xbl gamertag for h2 pc. Master Blake was taken, so why not use the 3 for an e? Everyone will get it. RIght?
Wrong.
Most people call me Master Black, or Master Black 3. Honestly, I don't mind. But it always makes me happy when people ask =D
Your from Santa Barbara!? Cool! I love SB. I used to go alot, but haven't in awhile =/.
Last thing (yea, long post) you said
Quote:
tomatoes / Blake

Your name is Blake?

_________________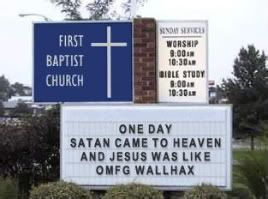 STOP EDITING MY SIGNATURE