Name: Janne Aartolahti
Age: 18
Location: Southern Finland
Languages I can speak: Finnish, English, Swedish, basic German
Occupation: none
Time zone: GMT+2
Ingame name: Janat
How to pronounce it correctly
Xfire: janat91
Steam: janat91
Games I play: Battlefield Bad Company 2, (Shattered Horizon, Call of Duty Modern Warfare 2, Call of Duty Modern Warfare, Crysis Wars, Counter Strike Source, ArmA II)
Das Auto: Škoda Octavia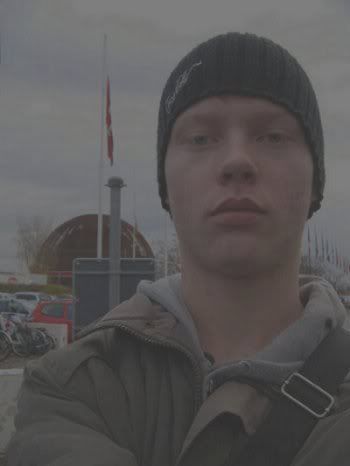 I love snow and cold weather, being outdoors and gaming. Please note that though I don't do much small talk, it doesn't mean that I'm being rude. It just ain't quite natural for me

History behind my name
When I first started playing online games in 2007 (Far Cry and Splinter Cell Chaos Theory), I had to choose an online name. My first online name was "Disaster", but it didn't feel unique enough, so I decided to make up a new name. "
Janat
" is a shortened version of my real name:
Jan
ne
A
artolah
t
i. Additionally, it's a Finnish mathematical term, line segments in English.
My gaming history and blah blah blah
I was born in Finland 28 December 1991, and ever since I've lived in Southern Finland in a small village of about 15,000 inhabitants. My family bought a color TV in late 80s and in the age of 7 I started programming on my dad's old Commodore 64 (an ancient computer connected to a TV, it had a tape drive). In 2001 I got a Playstation One, my first two games being Driver 2 and Spyro: The Year of the Dragon. a couple of years later my family bought a modern computer with Pentium 4 2.5GHz CPU and Radeon 9200SE GPU, and my first PC game was Soldier of Fortune 2. We got a internet connection in 2006 and a year later I was playing Far Cry online. I also played Splinter Cell 3 online. In January 2008 I bought Crysis, a month later I built a computer capable of playing Crysis, and slowly I became remotely good at it. I joined TFD as I fealt the need to become better. TFD disbanded a year later. I was thinking about joining 760 as Nitti applied for membership, but most other former TFD members joined WAR, so I followed them. Again, one year later, WAR was in serious problems and I decided to leave it. Suddenly everyone else left, too, and again, many joined 760. In March 2009 I founded my own clan, s9, but the member count was 4 at most. It was too late for yet another Crysis Wars clan. My succesful Target Practise server has been up since January 2009 (and it's shutting down in January 2010 as there are more important things for me to pay than a server I never play on). Some 760 players had asked me to join their clan before, and in summer 2009 I thought that the time was right now.
The Rig
Processor: Intel i7 920 @ 3.8 GHz
Memory: 6GB G.SKILL 1600MHz DDR3, Triple Channel
Hard Drive: Intel X25-M 160GB (OS, games, essential programs) 2x500GB Samsung SpinPoint (T166 for backup and fraps, and F3 for games and stuff)
Video Card: NVIDIA GeForce GTX 275
Monitor: 24in BenQ G2420HDBL, 19in LG FLATRON L1953TR
Sound Card: AuzenTech X-FI Bravura, MSI SoundBlaster X-FI Xtreme Audio
External Audio Gear™: AKG K601 (gaming, music, pretty much everything), Creative Fatal1ty Headset (it has a mic), NuForce NE-6 Earphones (for music and sometimes gaming, not so much anymore)
Keyboard: Cheap Logitech Keyboard™
Mouse: Logitech G9x
Mouse Surface: Steelseries QcK Mini on Razer eXactMat

Operating System: Windows 7 Professional x64
Motherboard: MSI Eclipse SLI Motherboard
Computer Case: Antec Sonata III Silent
PSU: Antec EarthWatts 500W
The computer desk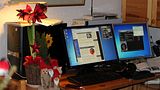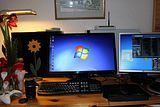 Inside of the rig
External Audio Gear™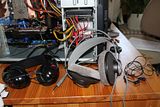 (From left to right: Fatal1ty Headset, K601, NE-6)
New Mouse
And some more pics

I in my natural environment

Škoda Octavia something
My back yard

I on top of Mont Blanc (well, almost... kinda...)
Switzerland Alps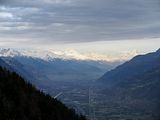 Berlin